Taking on the role of Bio-Assay Scientist, Dr Mireia Sueca-Comes and Mikayla Shelton joined Cellomatics earlier this year, eager to carve out a successful career in the sciences. 
Mireia grew up in Catalonia, Spain. She attended INS Mare de Déu de la Candelera followed by the Universitat Rovira i Virgili in Tarragona where she studied for four years in Biochemistry and Molecular Biology.  
Mireia originally moved to the UK in 2017 for six months to study at the University of Nottingham as part of her undergrad project. She remained in contact and later returned following her Master's degree.
Mireia gained her PhD in Pre-Clinical Oncology, a Master's degree in Biomedicine, and a Bachelor's degree in Biochemistry and Molecular Biology. 
Having remained with the University of Nottingham following her studies, Mireia moved from her role as a Scientific Researcher to join Cellomatics and is keen to continue her work in oncology.    
Mikayla grew up in Cambridge. She studied at Ely College and later, for her A levels, at Hills Road Sixth Form College.   
For her degree, Mikayla opted for the University of Leicester studying Medical Biochemistry. As part of her PhD, Mikayla's research project involved the study of extracellular vesicles in the crosstalk between melanoma and cancer associated fibroblasts.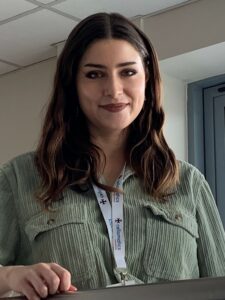 Mikayla has already tasted success with peer-reviewed publications in high impact journals, including a first-author paper, available to read here. 
With the laboratory experience gained during her PhD, Masters and BSc projects, she now hopes to put that to good use in the continued exploration of oncology. She's also keen to test her communication skills looking forward to attending, and presenting at, industry conferences. 
CEO and founder of Cellomatics, Shailendra Singh comments: 
"Both Mireia and Mikayla are a great addition to the Cellomatics family. They're both eager to be involved with the work here across all therapeutics areas, particularly oncology. We're delighted to have them with us."  
To find out more about careers at Cellomatics, visit our careers page.