The shift to utilising 3D cancer models remains an attractive option to investigate more clinically relevant features. Previously, breast and ovarian cancer cells have been grown as spheroids as part of our in-house projects. This work has been now extended to develop additional spheroids. Following drug treatment, fluorescently labelled dyes enabled a detailed annotation of the spheroids to delineate regions that are either viable or have undergone cell death. Alternatively, we can quantify spheroid area with brightfield images or assess cytotoxicity using the CellTiter Glo 3D assay.
Complementing this work is our two imaging platforms, JuLI Stage and ImageXpress Pico System, which can perform an array of functions including live imaging and time lapse capture to support with spheroid assays and related projects.
To find out how Cellomatics can support your spheroid assays and project requirements, request a quote below.

Spheroids were generated by seeding MCF7 cells at 5,000 cells per well in Nunclon U-bottomed ULA 96-well plates. Growth was monitored microscopically, spheroid area was plotted against day post-seeding for different seeding densities.

MCF7 spheroids were seeded at 10,000 cells per well and at 3 days post-seeding were treated with Doxorubicin for a further 5 days. Growth was monitored and viability assessed by means of the CellGlo Titer 3D assay, compared to cells grown as 2D monolayer cultures.
Consistency of spheroid form in different cell types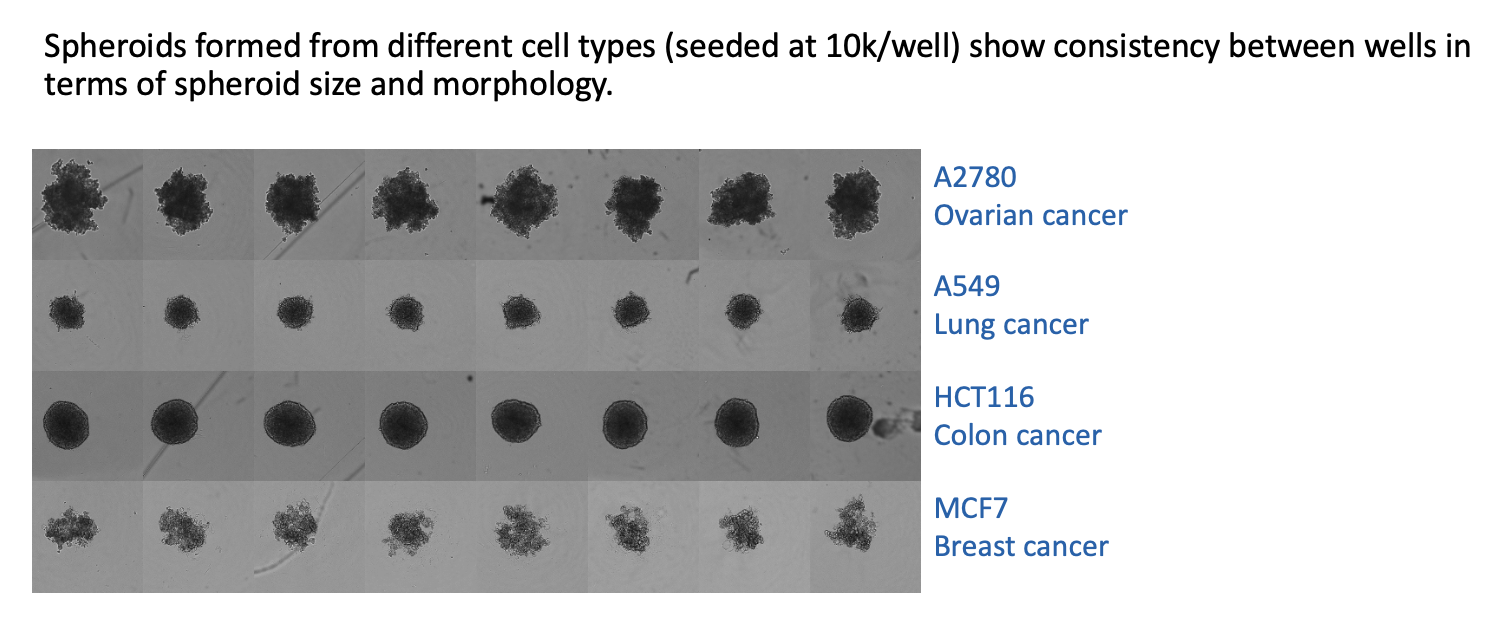 Morphology of spheroids reflects strength of cell:cell adhesion-A2780 and MCF7 spheroids are globular and irregular. This indicates that cells join the spheroid as it forms and adhere before starting to grow. Smooth spheroids, such as those formed by A549 and HCT116 cells, indicate that the cells can roll and move when the spheroid is formed, packing together more efficiently.
High-throughput Doxorubicin Assay

Spheroids were generated from different cells lines including A2780 (Ovarian cancer), A549 (Lung cancer), HCT116/Caco2 (Colon cancer) and MCF7 (Breast cancer). These spheroids were treated with Doxorubicin for 72 h and cytotoxicity was assessed using the CellTiter Glo 3D assay. Experiments were performed in 96-well plates thus confirming the potential for screening/testing anti cancer therapeutics on a high throughput scale.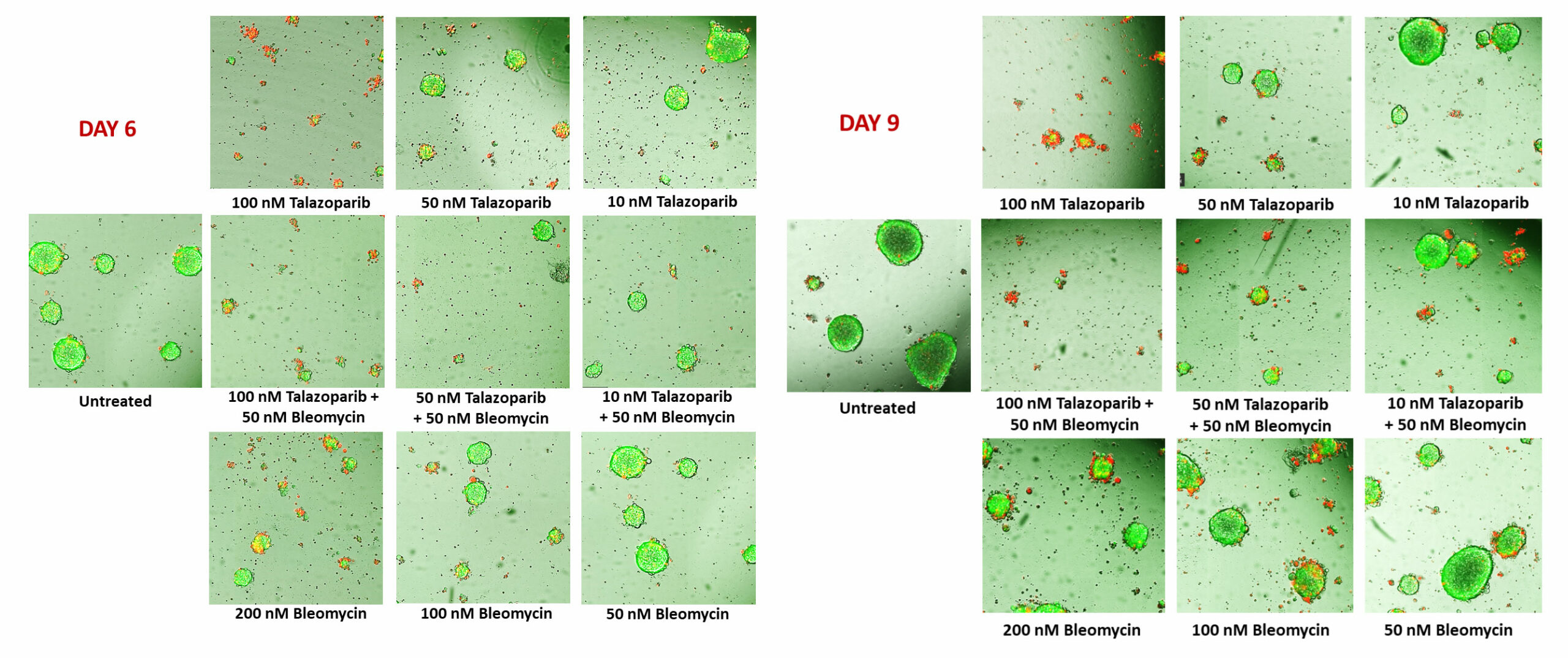 MDA-MB436 cells cultured in 3D cell culture media were allowed to form spheroids 5 days prior to Talazoparib and Bleomycin drug treatment. Following the drug treatment, spheroids were stained with DEAD Red and SYTO Green fluorescent dye every 72 hours. Spheroid growth and morphology were assessed using JuLITM Stage Automated cell imaging system to determine the effect of drug treatments. Combination of Talazoparib and Bleomycin resulted in an increase in cell death and an observable loss of spheroids.
Request a consultation with Cellomatics Biosciences today
Our experienced team of in vitro laboratory scientists will work with you to understand your project and provide a bespoke project plan with a professional, flexible service and a fast turnaround time.
To request a consultation where we can discuss your exact requirements, please contact Cellomatics Biosciences.