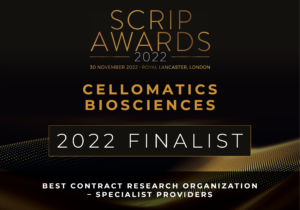 Cellomatics Biosciences is delighted to have been selected as a finalist in the Best Contract Research Organisation: Specialist Providers category of the 18th annual Scrip Awards.
Read More »
Request a consultation with Cellomatics Biosciences today
Our experienced team of in vitro laboratory scientists will work with you to understand your project and provide a bespoke project plan with a professional, flexible service and a fast turnaround time.
To request a consultation where we can discuss your exact requirements, please contact a member of the team.