PD-1/PD-L1 immune checkpoint Bioassay
Targeting immune checkpoint receptors have shown great promise in the management of immune-mediated effects on cancer cells. These receptors play a key regulatory role in maintaining immune equilibrium. Recently immunotherapies aimed at blocking immune checkpoints PD-1 and CTLA-4 have demonstrated  success in the management of various cancers.  
Our team has the capabilities to offer suitable robust and consistent immune cell line-based bioassays to our clients to screen the potency of their biologics. These can be further validated in a primary cell model.
The PD-1/PD-L1 Blockade Bioassay is a biologically relevant MOA-based assay that can be used to measure the potency and stability of antibodies and other biologics designed to block the PD-1/PD-L1 interaction. 
For more information on how Cellomatics can support your PD-1/PD-L1 bioassay project, click the link below.
PD-1 immune checkpoint blockade
Immune checkpoints are regulators of immune activation. They rely on interaction between cell surface receptors on activated T cells and corresponding ligands on antigen presenting cells such as dendritic cells. In cancer, immune checkpoint mechanisms are often activated to suppress the nascent anti-tumor
immune response. Blockade of these interactions with therapeutic antibodies or small molecules is an attractive therapeutic target in Immuno-Oncology. This can be detected in vitro by measuring proliferation, luciferase reporter expression or IFNγ/IL-2 release.


Isolated PBMCs were cultured in the presence of α-CD3 (0μM, 0.25μM, 1μM and 5μM) for up to 6 days. PBMC proliferation was induced at the higher concentrations tested; Incubating PBMCs with α-CD3 and 10μg/ml of the PD-L1 blocking antibody Nivolumab for 96 hours enhances IFNγ release compared to control
PBMCs proliferate in response to anti-CD3 stimulation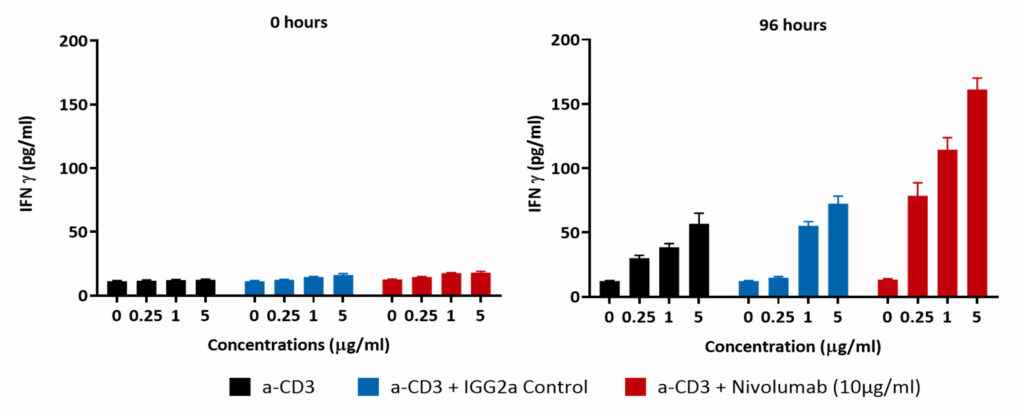 PBMCs were treated for 96 hours with increasing concentrations of anti-CD3 antibody (0 µM, 0.25 µM, 1 µM and 5 µM; black bar) or with Isotype control (blue bar) or with Nivolumab (red bar). Supernatants were collected and IFN-γ release was quantified by ELISA. Results demonstrate a dose dependent increase in IFNγ levels which are further potentiated by PD-1 blockade as suggested by Nivolumab treatment.
PD-1/PD-L1 immune checkpoint bioassay
Blockade of PD-1/PD-L1 by addition of either an anti-PD-1 or anti-PD-L1 antibodies, can also be detected using the luciferase bioassay that measures subsequent TCR activation and NFAT-mediated luminescence. 

                          Specific detection of PD-1/PD-L1 blockade                                                                         Intra-plate reproducibility     

The PD-1/PD-L1 luciferase bioassay enables detection of the inhibitory activity of anti-PD-1 and anti-PD-L1 blocking antibodies as quantified by increases in luminescence. In the assay workflow, PD-L1 expressing aAPC/CHO-K1 cells target cells are plated and treated with increasing concentrations of test antibodies along with the PD-1 expressing effector cells. Luminescence is detected after 6 hours. Validation of the assay has been performed using Nivolumab and Pembrolizumab. EC50 for Nivolumab and Pembrolizumab is 0.28 µg/ml and 0.11 µg/ml respectively. The assay is specific for PD-1 blockade as confirmed by incubation with Ipilumamb, a CTLA-4 inhibitory antibody. A high degree of intra-plate reproducibility in Nivolumab inhibitory response is demonstrated.
Request a consultation with Cellomatics Biosciences today
Our experienced team of in vitro laboratory scientists will work with you to understand your project and provide a bespoke project plan with a professional, flexible service and a fast turnaround time.
To request a consultation where we can discuss your exact requirements, please contact Cellomatics Biosciences.