Customised Assay Development
Customised Services/ Assay Development
Brand new assays are continuously being developed to generate novel lab-based models, or to improve on the existing ones with the objective of finding the most reliable assay to evaluate the potency of test molecules. Assay development requires careful consideration of multiple factors including relevance, reproducibility, quality, interference, and cost.
For more information on how Cellomatics Biosciences can assist with your development assays, please contact us or request a customised quote.
Services for Preclinical In Vitro Assays
There is a constant demand from BioPharmaceutical and Biotech companies for extensive screening of developed drugs and agents to target various physiological conditions.

There is a constant demand from BioPharmaceutical and Biotech companies for extensive screening of developed drugs and agents to target various physiological conditions. Essential preclinical work enables stringent surveying of the biological and biochemical effects of these compounds using a vast array of cell-based disease models and samples of human or animal origin. With the availability of robust and high-throughput laboratory techniques, an efficient turnover of results is ensured, thus facilitating the transition of these drugs from laboratory to clinical use.
As a company, Cellomatics Biosciences aims to become a trusted collaborator within the pharmaceutical sector in delivering preclinical in vitro work. Our team demonstrates proficiency in a wide range of assays that cater to the specifics of common medical and scientific studies of interest. We tailor our services according to our clients' objectives whilst providing support from planning to completion. Currently, we are further developing various in-house experiments to expand our expertise and reach out to a wider clientele.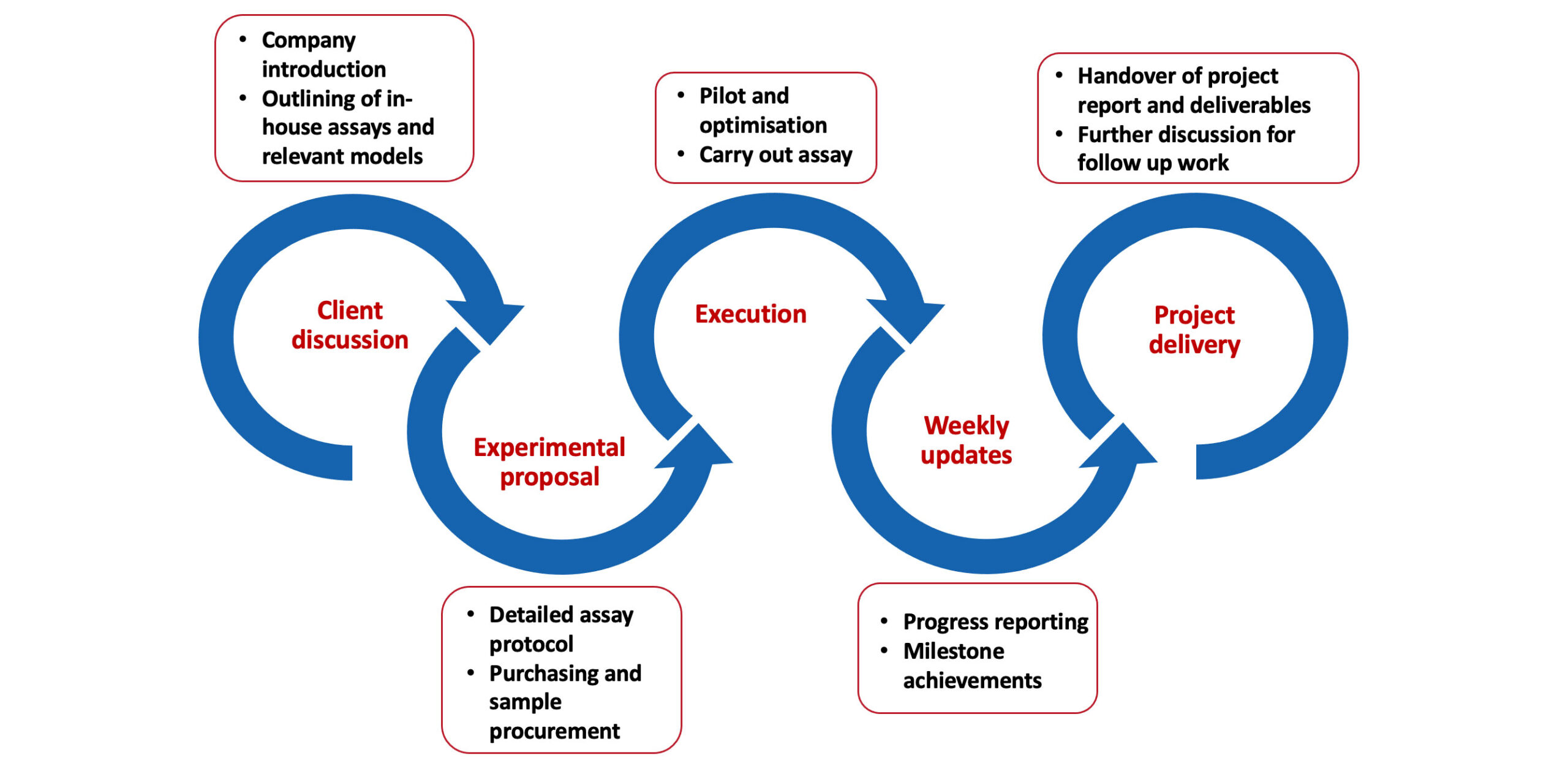 The work that the company provides has been vital for several drug discovery programs spearheaded by our clients both locally and abroad. For our project conception, we…
Showcase our expertise – our team members hail from different scientific backgrounds, providing a strong knowledge base to address the specifics of the different areas of scientific interest
Collaborate – we have close ties with local universities to access several facilities as well as suppliers for procuring tissue samples and patient-derived cell lines to carry out our work
Innovate – we continuously perform in-house assays to demonstrate broader experimental capabilities for clients to consider
Support – throughout the progression of the project, clients are provided constant updates to advice, identify potential changes in workflow and direction for follow up work
Deliver – we provide a detailed assay protocol, perform necessary pilots and produce high quality data that is in line with the client's request and within the allocated timeline
Cellomatics Biosciences has successfully completed over 125 projects, focusing on data generation for the most common therapeutic areas in clinical practice. Establishing a partnership with our team safeguards your confidence in planning the next steps in your drug development program.
HDMEC membrane permeability on transwell model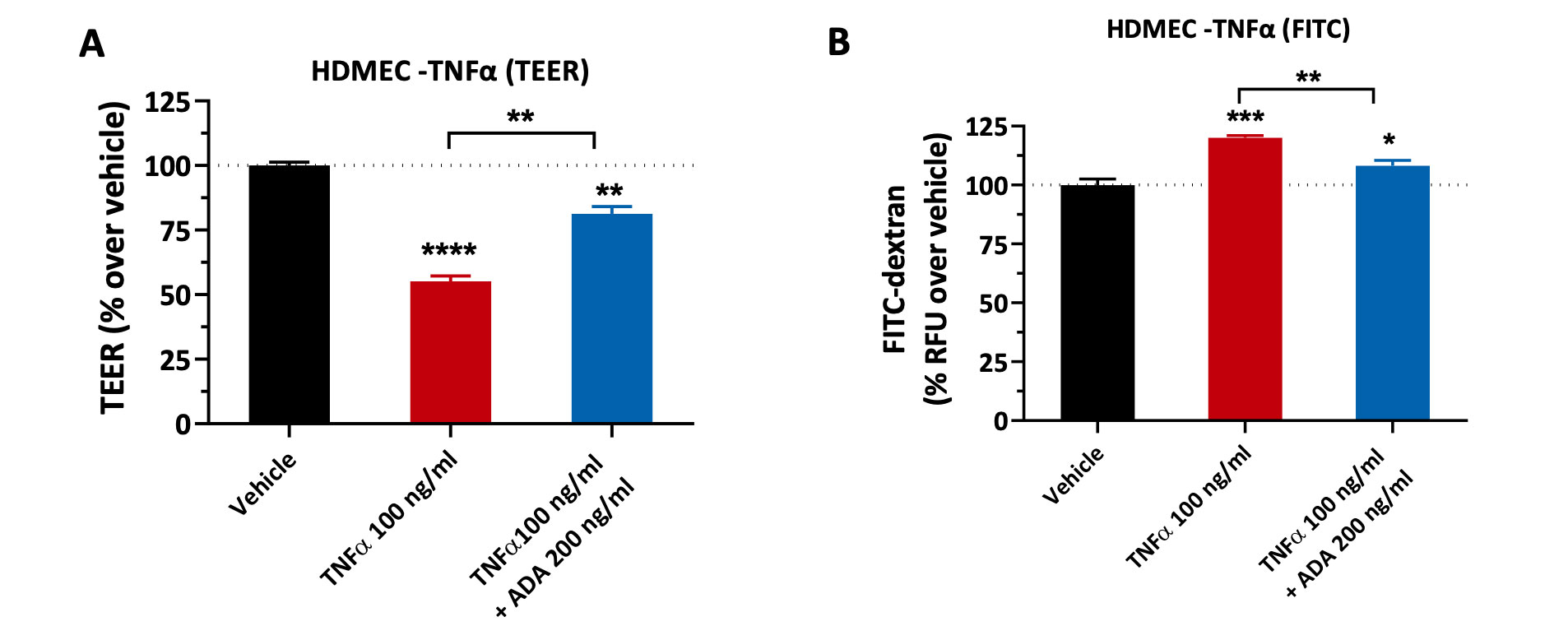 Permeability of primary Human Dermal Microvascular Endothelial Cells (HDMEC) on a transwellmodel. HMDEC were seeded onto gelatin-coated 0.4μm pore-sized HTS96 well-plate format transwells for 4 days, followed by 24h treatments. TEER was measured before and after treatments, and FITC-dextran permeability was determined after treatments. A,B) Treatment with 100ng/ml TNFα caused a reduction in TEER and increase in FITC-permeability, thereby increasing HDMEC permeability. This was partially reversed by co-treatment with anti-TNFα antibody Adalimumab (200 ng/ml). Data expressed as mean +/- SD (N=3), statistical comparison was performed by one-way ANOVA with Dunnett's test for multiple comparison against Vehicle controls, and unpaired t-test between TNFα +/- ADA (* p<0.05, ** p<0.01, *** p<0.001, **** p<0.0001).
Caco2 calcium permeability on transwell model

Assay to quantify Caco2 permeability to calcium in a transwell model. A) A colorimetric assay kit was used to determine the amount of CaCl2 in HBSS buffer (without Ca2+ or Mg2+), showing a dose-dependent signal increase between 0-15 μg. B) Caco2 cells were seeded in 0.4μm pore-sized transwells for 4 days until a TEER value of 400 Ω.cm2 was reached, followed by addition of 60 μg of CaCl2 in HBSS buffer to the apical compartment. Quantification of CaCl2 in apical and basal chambers was performed at 4 time points, with empty transwells and HBSS only being used as controls. C) While most of the CaCl2 added in empty transwells diffuses through to the basal compartment, there is a gradual permeation of CaCl2 through Caco2-seeded transwells over time, as shown by increased % of calcium in the basal compartment, reaching approximately 10% (6μg) after 180 minutes.
Request a consultation with Cellomatics Biosciences today
Our experienced team of in vitro laboratory scientists will work with you to understand your custom assay development needs and provide a bespoke project plan with a professional, flexible service and a fast turnaround time.
To request a consultation where we can discuss your exact requirements, please contact Cellomatics Biosciences.