Mixed Lymphocyte Reaction (MLR)

PBMCs were collected from 2 healthy donors: Donor 1 (Responder) and Donor 2 (Stimulator). PBMCs were then treated with Mitomycin for 30 minutes and seeded along with PBMCs stimulated with PHA for 5-days. The proliferation was assessed by BrdU incorporation.  Mitomycin C treatment reduced the proliferation of PBMCs when compared to Untreated (Control) cells. PHA increased the proliferation of the PBMCs confirming the viability of the PBMCs after isolation (n=6±SEM).
Mixed Lymphocyte Reaction- One-way and Two-way

MLR-One-way: PBMCs from stimulator were treated with Mitomycin C to inhibit proliferation. Equal numbers of the stimulator and Responder cells were then co- cultured for 5 days. Mitomycin C reduced the proliferation of Stimulator cells. Hence, any proliferation observed in the MLR-One-way is observed from the Responder cells only.
MLR- Two-way: PBMCs from both responder and stimulator were co-cultured without Mitomycin C. The proliferation was recorded from both the responder and the stimulator cells.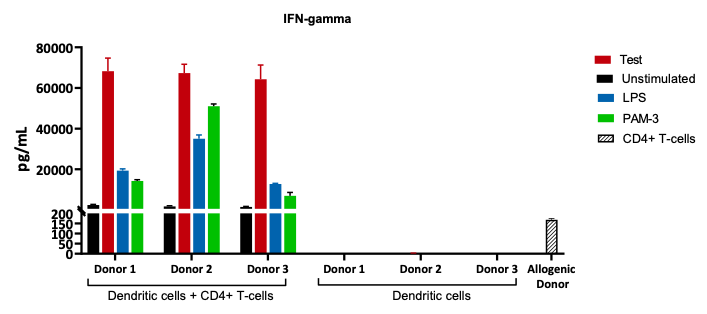 Responder cells: CD4+ T-cells from an Allogenic Donor. Stimulator cells: Mo-DCs from 3 healthy Donors. 
The supernatants after co-culture were analysed for IFN-gamma release which is an indirect measurement of T-cell activation.
Request a consultation with Cellomatics Biosciences today
Our experienced team of in vitro laboratory scientists will work with you to understand your project and provide a bespoke project plan with a professional, flexible service and a fast turnaround time.
To request a consultation where we can discuss your exact requirements, please contact Cellomatics Biosciences.