Respiratory diseases have been identified to be an immense health burden worldwide with approximately 1 billion persons suffering from chronic respiratory conditions.
Estimates suggest that:
235 million people suffer from asthma
More than 200 million people have chronic obstructive pulmonary disease (COPD)
65 million endure moderate-to-severe COPD
8.7 million people develop tuberculosis (TB) annually
Millions live with pulmonary hypertension and more than 50 million people struggle with occupational lung diseases
Each year, 4 million people die prematurely from chronic respiratory disease
Asthma is the most common chronic disease, affecting about 14% of children globally and rising
COPD is the fourth leading cause of death worldwide
Cellomatics Biosciences Ltd. is a respiratory CRO that offers well validated preclinical airway models to investigate the effects of compounds in a variety of pathological settings including inflammation, gel contraction, oxidative stress, mast cell degranulation, extracellular matrix deposition (ECM) and epithelial to mesenchymal transition. These models are suitable for low to high throughput studies.
Asthma and Airway Inflammation
Asthma is the most common chronic disease, affecting about 14% of children globally and rising. Asthma is a chronic inflammatory disorder arising from not fully understood heterogenic gene-environment interactions. It features variable airway obstruction and bronchial hyperresponsiveness. This leads to breathlessness associated with wheezing and cough. It is frequently known to coexist with atopic diseases, particularly allergic rhinitis.
Idiopathic pulmonary fibrosis (IPF) is the commonest interstitial lung disease (ILD) and is characterised by progressive scarring of the lungs. Impaired pulmonary would healing response following lung injury coupled with excessive production of collagens leads to a pathogenic lung fibrosis.
The GOLD initiative defines COPD as "a disease state characterized by airflow limitation that is not fully reversible. The airflow limitation is usually both progressive and associated with an abnormal inflammatory response of the lungs to noxious particles or gases." The American Thoracic Society defines COPD in terms of chronic bronchitis and emphysema. Chronic bronchitis is characterized by the clinical symptoms of excessive cough and sputum production; emphysema refers to chronic dyspnea, resulting from enlarged air spaces and destruction of lung tissue. COPD is the fourth leading cause of death worldwide.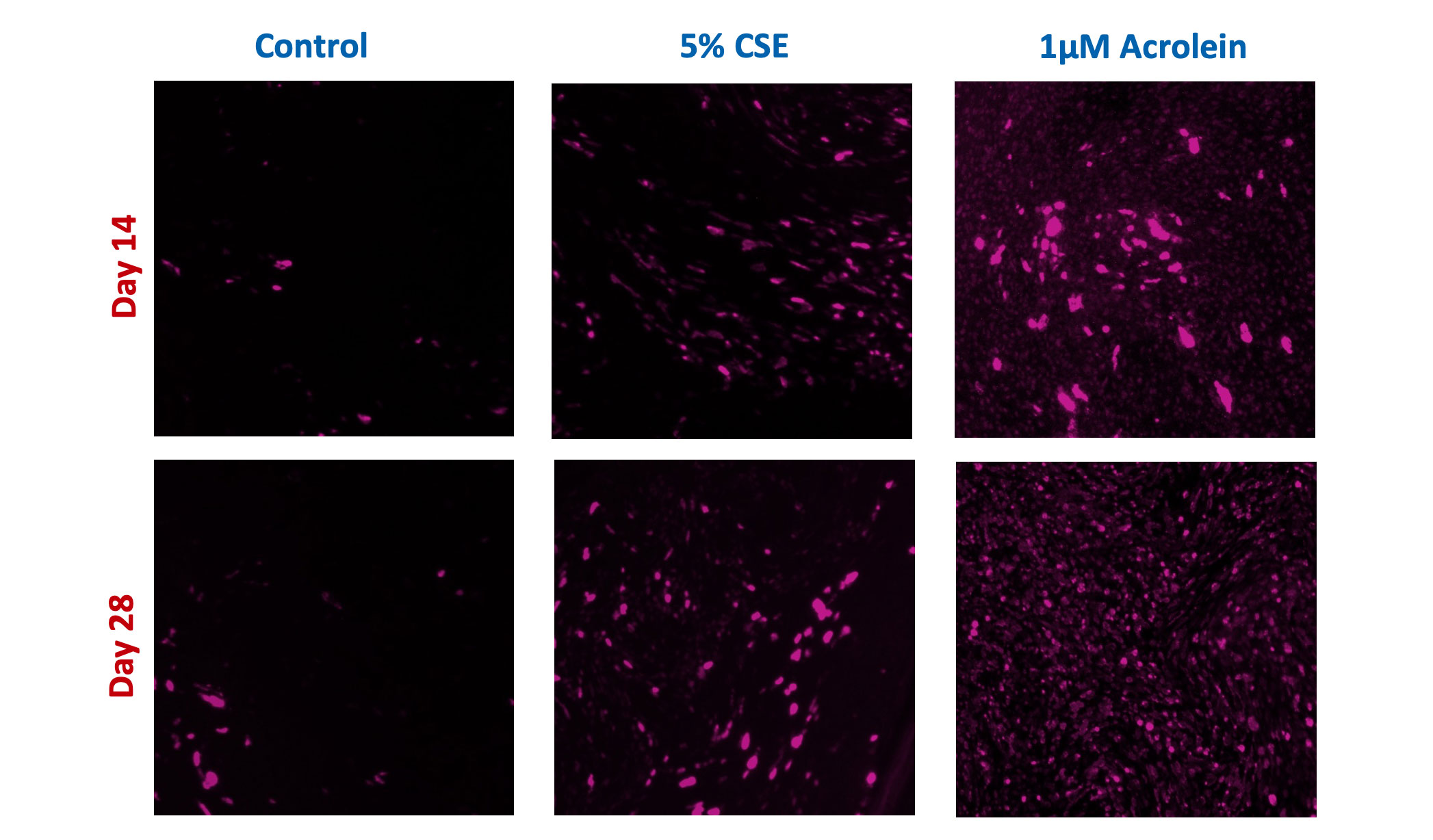 Human airway epithelial cells were differentiated into goblet cells and then treated with pulsed 5% cigarette smoke extract (CSE) and 1 µM Acrolein (continuous) for 28 days. Immunofluorescence staining for MUC5AC was performed at Day 14 and Day 28 and imaged using the Molecular Devices Xpress Pico machine
MUC5AC and MUC5AB mRNA expression was assessed in NHBE-Bronchial Epithelial Cells following 28 days of differentiation and treatment with cigarette smoke extract (CSE) or Acrolein. Gene expression was analysed using a Quantigene Luminex Assay and fold change normalised to Day 0 differentiation (Control-untreated) (n=5).
Mast cells are immune cells of the myeloid lineage and are present in connective tissues throughout the body. The activation and degranulation of mast cells significantly modulates many aspects of physiological and pathological conditions in various settings. With respect to normal physiological functions, mast cells are known to regulate vasodilation, vascular homeostasis, innate and adaptive immune responses, angiogenesis, and venom detoxification. On the other hand, mast cells have also been implicated in the pathophysiology of many diseases, including allergy, asthma, anaphylaxis, gastrointestinal disorders, many types of malignancies, and cardiovascular diseases (Krystel-Whittemore et al., 2016).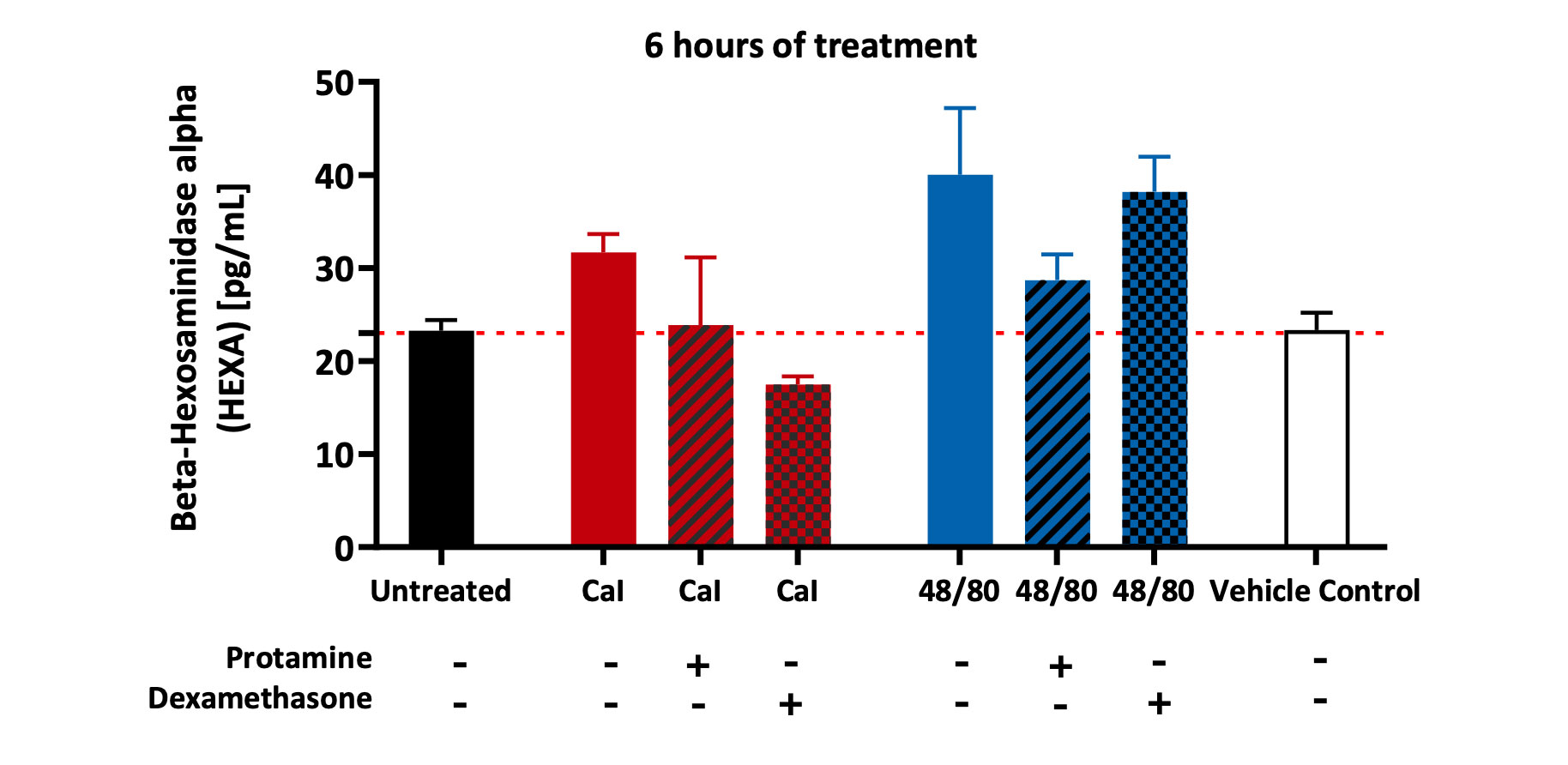 HMC1.2 cells were treated with Calcium Ionophore (CaI) and Compound 48/80 (48/80) ±Protamine or Dexamethasone. The vehicle control was 0.1% DMSO in culture media. The beta-hexosaminidase alpha (HEXA) was analysed in the cell lysates by ELISA. An increase in HEXA was observed in cells treated with CaI and 48/80 when compared to vehicle control/untreated cells. These levels of HEXA reduced when treated with inflammatory inhibitors such as Protamine and Dexamethasone.
Allergic rhinitis is an inflammatory disorder of the nasal mucosa induced by allergen exposure triggering IgE-mediated inflammation. It can also be associated with co-morbid conditions as Asthma, Atopic Dermatitis & Nasal polyps (Varshney et al., 2015).
Request a consultation with Cellomatics Biosciences today
Our experienced team of in vitro laboratory scientists will work with you to understand your project and provide a bespoke project plan with a professional, flexible service and a fast turnaround time.
To request a consultation where we can discuss your exact requirements, please contact Cellomatics Biosciences.