British Journal of Pharmacology, 6 April 2023
This article featured research from Dr Mark Bird, Dr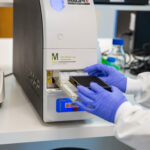 Anushuya Tamang and Professor David Lambert from Cellomatics. It was published in the British Journal of Pharmacology and part of the study uses a Cytokine 25-Plex Human panel kit and our in house Luminex MAGPix™ detection system.
Drug Discovery World, 15 February 2023
This paper written by Cellomatics' CEO Shailendra Singh discusses the history of immuno-oncology research, how it has evolved and its future potential.
Request a consultation with Cellomatics Biosciences today
Our experienced team of in vitro laboratory scientists will work with you to understand your project and provide a bespoke project plan with a professional, flexible service and a fast turnaround time.
To request a consultation where we can discuss your exact requirements, please contact a member of the team.