The GOLD initiative defines COPD as "a disease state characterized by airflow limitation that is not fully reversible. The airflow limitation is usually both progressive and associated with an abnormal inflammatory response of the lungs to noxious particles or gases." The American Thoracic Society defines COPD in terms of chronic bronchitis and emphysema. Chronic bronchitis is characterized by the clinical symptoms of excessive cough and sputum production; emphysema refers to chronic dyspnea, resulting from enlarged air spaces and destruction of lung tissue. COPD is the fourth leading cause of death worldwide.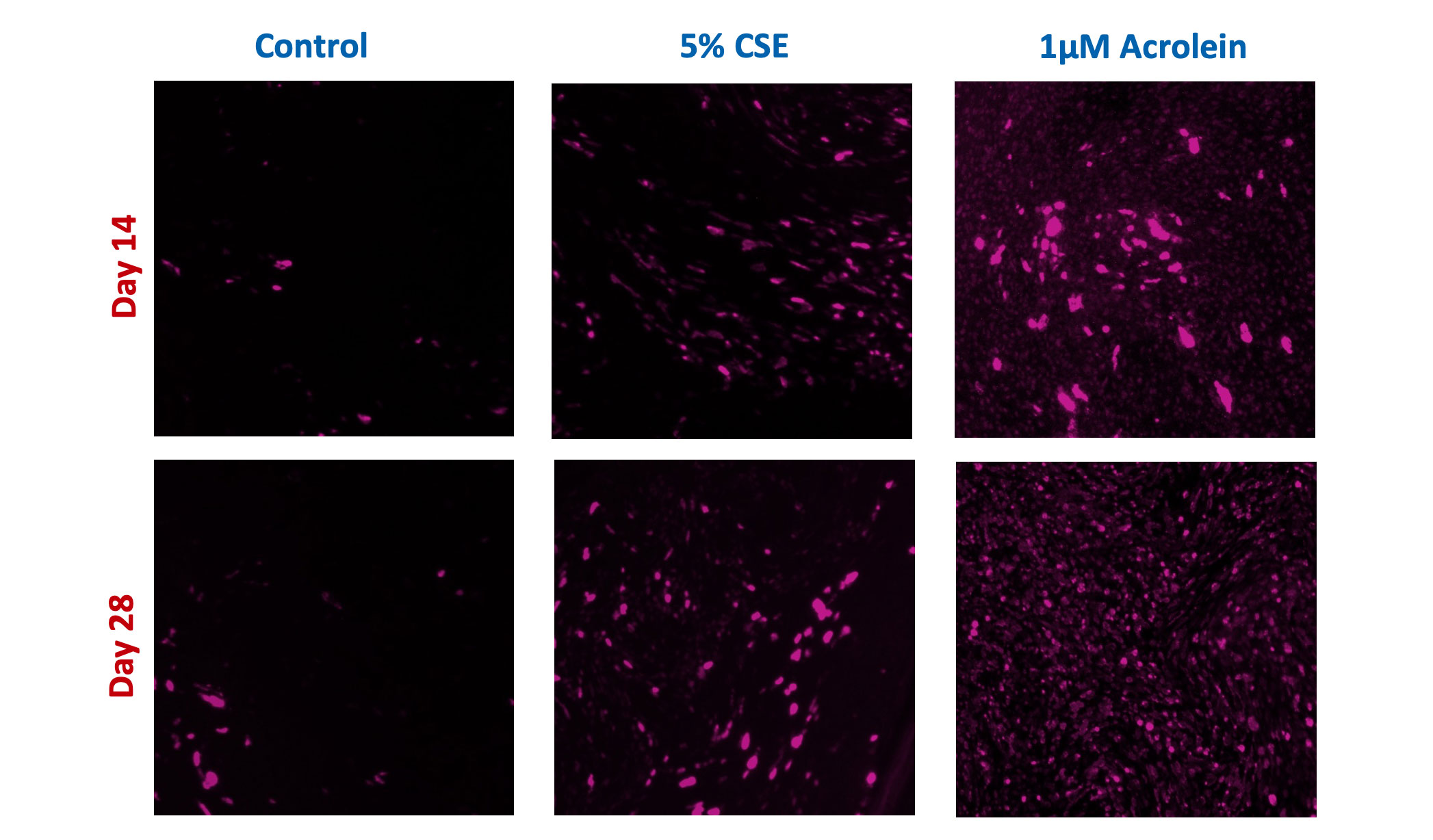 Human airway epithelial cells were differentiated into goblet cells and then treated with pulsed 5% cigarette smoke extract (CSE) and 1 µM Acrolein (continuous) for 28 days. Immunofluorescence staining for MUC5AC was performed at Day 14 and Day 28 and imaged using the Molecular Devices Xpress Pico machine
MUC5AC and MUC5AB mRNA expression was assessed in NHBE-Bronchial Epithelial Cells following 28 days of differentiation and treatment with cigarette smoke extract (CSE) or Acrolein. Gene expression was analysed using a Quantigene Luminex Assay and fold change normalised to Day 0 differentiation (Control-untreated) (n=5).
Request a consultation with Cellomatics Biosciences today
Our experienced team of in vitro laboratory scientists will work with you to understand your project and provide a bespoke project plan with a professional, flexible service and a fast turnaround time.
To request a consultation where we can discuss your exact requirements, please contact Cellomatics Biosciences.